Fairhaven – A Novel of Climate Optimism is a prize winner in the 2023 Green Stories Novel Prize.
How will the ocean be central to addressing the challenges of global climate change? The exciting new novel Fairhaven builds on concepts first presented in the 2022 anthology No More Fairy Tales: Stories to Save Our Planet. Fairhaven traces the lives of a group of innovators, engineers, and visionaries as they struggle against the odds to bring climate solutions to Southeast Asia and to the world. Vital to their quest is the re-imagining of our planet: not from the point of view of humankind, but from the point of view of the ocean – as in the image shown below.
The book (preview covers as per the following images) will be presented to selected readers in December 2023 at COP28, and launched to the public in early 2024.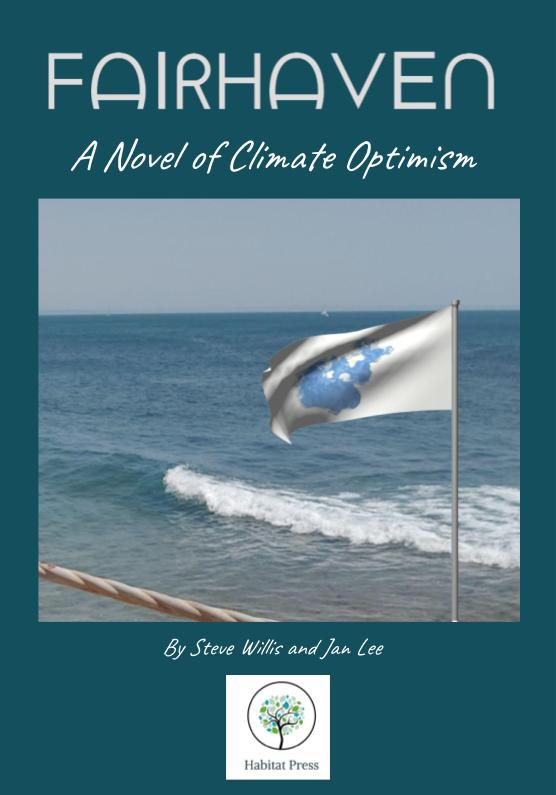 Fairhaven – A Novel of Climate Optimism traces the lives of a group of innovators, engineers, and visionaries as they struggle against the odds to bring climate solutions to Southeast Asia and to the world.
Grace Chan, a young Malaysian working at the Fairhaven infrastructure project in Penang, is terrified of what the future might bring. She reluctantly comes to terms with the role that she and her colleagues will play in addressing that future, and the toll it will take on their own lives. Nearby, on an abandoned oil platform, three unlikely companions come together by chance as they discover an unexpected opportunity arising from a devastating accident. Meanwhile, in the distant north, a Japanese assistant professor takes a bold idea from concept to reality.
As they work towards their common goals, a more powerful force lies in wait, which may bring them success or disaster.
Praise for Fairhaven
In a time when the narrative matters more than we can possibly imagine, the need for story telling that lets us reflect on who we are, who we're becoming, and the world we wish to create is incredibly important. This book is that story. It will open up a door to your imagination while serving as a bridge to the place of yourself that remembers our strengths and why we're here. It's beautiful and engaging and a true testament to our times. Anne Therese, Author of The Climate Optimist.
'Gripping drama bursting with inspiring ideas of what is possible: a map to the future' D.A. Baden, founder of Green Stories and author of 'Habitat Man.'
'This engrossing novel offers a rare combination of in-depth technical knowledge with a flair for telling compelling stories. It brings the story of a diverse cast of characters to life as they try to solve real climate change problems – before it's too late.' Catherine Cole, Asia Sustainability Advisor and former CEO, MOTIF
Climate change is the most pressing environmental topic of today, as it has already affected this generation and is expected to be an even more severe issue for future generations to cope with. Reading this climate fiction book will educate and entertain you, and more importantly, tell you that individual actions can alleviate the climate crisis. Edwin Lau, Founder and Executive Director, The Green Earth
'No turning back now. We have crossed the threshold where fact will be stranger than fiction. Ironically good climate fiction like Fairhaven, may help us envision a path forward and give us inspiration for the challenging journey ahead.' John Englander, Author, Moving to Higher Ground, Rising Sea Level and the Path Forward (2021)
The future of Earth's climate is a story we get to discover together. Climate fiction like Fairhaven is needed to illuminate the possibilities ahead. Tito Jankowski, CEO, AirMiners
In a world grappling with climate despair, 'Fairhaven' emerges as a beacon of optimistic possibilities. Willis and Lee weave a compelling narrative that intertwines the urgency of climate action with the power of human resilience and innovative spirit. Tom Raftery, Technology Exec – Evangelist & Influencer – Sustainability, Supply Chain, Energy, EVs.
We can't navigate our way to a better future fed on a diet of nothing but doom and gloom. we need stories to challenge, provoke and inspire to help us dare to imagine and act with hope – Fairhaven does just that! Nigel Topping. UN High Level Climate Action Champion, COP26
'An exciting exploration of the idea of the ocean as a nation in its own right'. Green Stories 2023 Judging Panel.
Fairhaven – A Novel of Climate Optimism takes the reader on a compelling journey through climate change challenges and solutions, crafting memorable characters that feel real and prescient. With gripping storylines that immerse the audience in the urgent struggle to protect vulnerable lands and communities through ambitious geoengineering projects, Fairhaven deftly spotlights the importance of climate adaptation work while entertaining and informing readers of all backgrounds. By giving a human face to our planet's most pressing issues, Fairhaven deftly uses fiction to unpack complex climate issues and allow readers to connect with the heroic efforts underway to secure our future in an ever-changing world. Dr. William Yu, Founder & Chief Executive Officer, World Green Organisation.
May the climate crisis be a spur to a million imaginations–we're going to need some new ideas to get out of this century! Bill McKibben, author The End of Nature
It's wonderful to see more solutions-focused climate fiction being published by people with the expertise to see a future that's really possible. Fairhaven fills me with hope. Lauren James, founder of the Climate Fiction Writers League.
ONLINE AND HARD COPIES AVAILABLE SOON
Praise for Steve Willis and No More Fairy Tales
We make sense of our world not through data but through stories. That's why we need more narratives like the ones here in this brilliant, evocative collection. Read, enjoy and share. Owen Gaffney, Global sustainability analyst at Stockholm Resilience Centre and Potsdam Institute for Climate Impact Research.
All innovation starts with a spark that dares picture a different way – this anthology is full of such sparks, and our task is to immerse ourselves in them and then dare to act boldly to build the future here and now. Nigel Topping, High Level Climate Action Champion, UNFCCC COP26.
Bursting with powerful stories and brilliant ideas. Rachel Trezise, Prize-winning Author and reader for The Literary Consultancy
Praise for Jan Lee and Route One
Fantastic! A real literary treasure. – Erin Binkley, Creative Marketing
As a sci fi lover, I had to read this immediately and I love it! The atmosphere is captivating and the concept very unique. When the story ended I was upset, for I am so curious how it would have continued! Marius Rummel, Chief Business Officer, Angiolutions
This collection of short science fiction stories is far removed from the "normal" sci-fi narratives you've read before. The stories and protagonists tackle both gritty and humorous topics, and do it very well. Recommended read for sci-fi fans looking for a change of pace. Amazon reader
The book features sixteen highly unique short stories – many of them so rich with ideas that they could easily become full novels. Jan Chu takes us to different worlds, welcomes Hugh Hefner for a guest appearance and answers the age-old alien question "do humans make good pets?" Highly recommended!' – Amazon reader